22 Sep

The Willows Connection 2022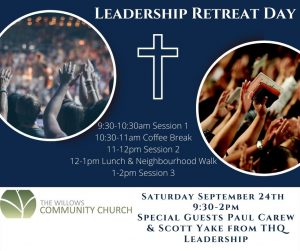 It's not too late to RSVP and join us on Saturday for our Leadership Retreat & Training Day, anyone is welcome, just text Renee 604-315-6400
Come join us for worship Sunday September 25th. at 10:00am. It's WILLOWSFEST!   Come help us celebrate with a BBQ after church.  Bring a side or dessert to share and we'll provided the Hot dogs and Burgers. This is our Rally Sunday and Fall Launch of The Story, our new sermon series for the year.  In order to best accommodate larger numbers of folks and sitting around tables for the service, we will have the kids head straight upstairs to their Sunday School class at 10am and then return in time for us to each lunch together.  At which point you may spread out all around the lower floor of the church, additional tables will be provided.
Pastor Dave will be speaking on Getting to the Heart of God's Story beginning with the creation accounts in Genesis.   The Story is a dynamic, powerful, and rewarding experience. You can pick up a copy of The Story  – The Bible as One Continuing Story of God and his people. ($10.00 Donation)  It has carefully selected verses from the Bible that are organized chronologically and written in the form of a novel from Genesis to Revelation. Live stream is available The Willows Church Salvation Army Youtube Channel
Prayer & Care 
We are praying for Jessica and the Petkau family, Andrea, Ty & Felix as they share care for Isaiah and resettle him in Langley.  We are collecting a love offering (cash, chq or gift cards) this week to help off-set additional costs for the Petkau family during this season.
Prayers appreciated for Penny Armstrong who is battling a severe asthma flare up and Jack Michel who had surgery this week after breaking his leg and ankle playing soccer.  Dave Woodland's family is also grieving the loss of another sister and he is away visiting family.  Greg & Michelle Jackson have traveled to South Africa and we are also praying for traveling mercies for them.
Sunday School
Our theme for September is Always – God loves me no matter what
Emotions are like the lights on the dashboard of a car – they "light up" so to speak, to let us know that something's happening on the inside, but we don't always know what to do with our emotions! Sometimes it's easy to share what we're feeling, but other times not so much. Sometimes we hide our feelings, or even apologize for them.
Here's the good news; We are wonderfully made in God's image. God gave us all these emotions, and that's what we want our preschoolers to learn this month. God loves us a lot, and we can trust God with all our hearts, and all our feelings. God will always be there ready to listen and help no matter what we are feeling.
High Wire – Daring to Trust
Has someone ever said to you, "Trust me! I know what I'm doing!"? Did you believe them? I guess it depends on the person! When someone asks you to trust them, your brain starts to immediately figure out if this person in question is trustworthy. Do they keep their word? Do they make wise choices?
Everyday we face moments where we need to trust someone or someone needs to trust us. Not to mention how all of us need to continually learn to trust God with whatever happens in our lives. If we want to live the life God has for us, we need to be able to trust each other. Which is why we're taking the month of September to learn what it means to trust!
New Volunteers are always welcome, ask for a screening package from Rebekah Flemming.
If you can't join us in person, click on the links below for a new online Sunday School experience video lesson each week!
First Look (online experience for kids ages 3 – 6 )  Preschool at Home September 25th.
252 Kids Online Experience (Grade 1 to 4) Elementary video September 25th.
Family Fun
Willowbuds join us on Wednesday September 28 from 9:00am to 12:00pm @ The Willows Family Life Centre. Drop in for a great time of free play, snacks, craft and music.
Congratuations to Dave Woodland for growing the tallest sunflower from our Easter seeds where were learning to plant gardens rather than try to climb ladders in our Good Enough series!  102 inches tall with a flower measuring 13 inches across and a seed deck of 5.5 inches!  WOW
Join us via Zoom Winn Blackman's Bible Study Group, The Book of Revelation. Wednesday mornings 9:45-11:00am, starting September 21st.
Join us for ESL Bible Studies, Fridays @ 10:00am with Susan and Pastor Renee. The Hope Project is 17 lessons based on video clips and an English language study guide.
 We are looking for several small group hosts for the coming season as we enter THE STORY series as a church through Oct – Nov and Jan – May , short videos and group questions are all included and based on the sermon each week, so this will be the easiest life group to facilitate ever!  No decisions on what to study or researching material, anyone in the group can facilitate the conversation, no teaching skills needed.  We are looking for people to host in their homes or at the church at various times throughout the week with the same material so that it tracks along with our sermon series, Getting to the Heart of God's Story.

NEW:  Join the Running Group for 5K. starting October 3rd. @ 6:30PM through December 5th. Just in time for the Santa Shuffle! Hosted by Scott & Lucinda McQuarrie in Walnut Grove.
Youth Activities are beginning!

Save the dates for Youth Group Jr. & Sr. starting soon, events are typically 7-9pm.   More details coming soon. Youth Kick off Party (Sr.) Thursday Oct. 6 here at The Willows.  FUSE (Sr.) Oct. 14-16 (see below) Fear Factor (Sr.&Jr) Thursday Oct.20 & Halloween Party (Sr.) @ Cariboo Hill Temple Friday Oct.28.
New dates for Sr. Youth Bible Study. I Wonder "The Mystery of Loving God with your mind". Wednesday October 5, 12 & 19 @ 7-8pm
Registration is open for FUSE. FUSE is a weekend for youth all around the lower mainland Salvation army church's and youth groups to come together for a fun weekend. Registration is open until *OCTOBER 10th* so sign up before then to secure your spot. The Willows will be taking people to this great weekend so we will arrange travel information closer to the date. Please let Sam Dunstan know if your attending so we can arrange travel accordingly. General Information: October 14-16 Price $100 Ages: Grades 8-12. BC Youth Camp Registration
New dates for PEACE Program, beginning October 4 and ending November 29, 2022. Meetings are on Tuesday evenings 5:00-7:00pm. Contact Andrea Petkau for referrals.
Fall sessions for RED CAP begins Tuesday October 4th from 4:00-5:00pm  with 6 online classes. Free program offered to children ages 8-12 years old.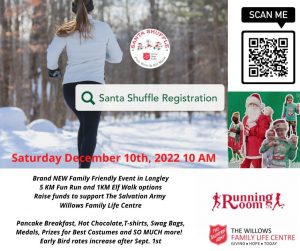 https://www.santashuffle.ca/langley/
Register to join our Santa Shuffle event right here in Langley!  This will be a fundraiser directly for The Willows Family Life Centre to support our many family-friendly programs. We imagine lots of families participating in their matching Christmas PJ's, awards, medals, some pancakes and even a visit with a special someone.  SATURDAY DECEMBER 10th morning.
****
Psalms 34:18
"The Lord is near the brokenhearted and  he saves the crushed in spirit."